Hello hello! The end of spring racing seems to have brought about the (temporary) end of blogging. I'd like to say I've been too busy running to blog, but the truth is that I'm a seasonal runner, and summer is my lull time. I know there are people who just love to train year-round, but I like having a break from hard training, for both physical and mental reasons. So what HAVE I been doing?
Well, for one, I've still been running—just less. I'm averaging 20-30 miles a week, mostly less than 6 miles at a time. It lets me keep up my base fitness while giving me more time to do other things. I've been trying to strength train three times a week, which is hard for me because I just don't enjoy it. (Whoever invented Bulgarian Split Squats should be shot. Ow ow ow owwww.) But I know I'm much healthier when I do weights, so I'm trying. I've also been doing lots of power yoga—this is great because I love yoga but don't always have time during heavy training, plus I think it helps with injury prevention. Finally, I've been doing lots of intervals and sprint work on the treadmill, and I'm planning a little post on how to do treadmill intervals in the near future.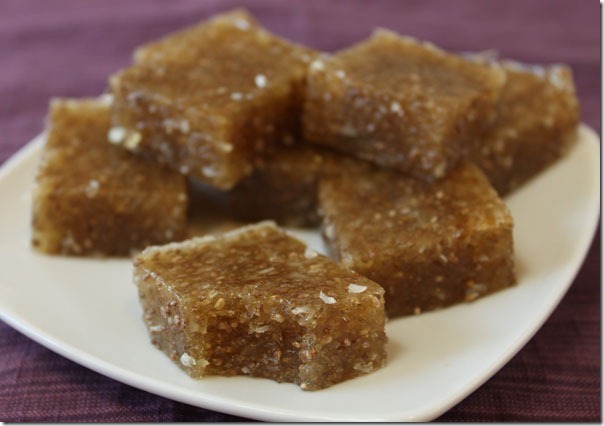 I've also been making these scary things in my kitchen: Pina Colada Energy Chews. I made them before my last race in July, and since they proved to be good race fuel, I thought I would share the recipe.
Agar powder is the secret ingredient in these chews…well, one of the secret ingredients. It's a vegan gelling agent made from seaweed. (But don't worry, it's completely tasteless. Your chews will NOT taste like sushi.) It can be kind of difficult to find, which is why it's getting its own close-up here. You might be able to find it at health food stores—my local Whole Foods carries agar flakes (not powder) in the Asian food section. If you use flakes instead of powder, make sure you look up the conversion on the internet, because it's not a 1:1 substitution. I bought my agar powder online from Amazon and it was fairly cheap.
You can substitute gelatin, but the texture will be different. You know the difference in texture between, say, candy orange slices and gummy bears? How orange slices are more chewy and gummy bears are more…sproingy? That's the difference between agar and gelatin. I happen to like my energy chews less bouncy, but if that doesn't bother you, by all means use gelatin instead.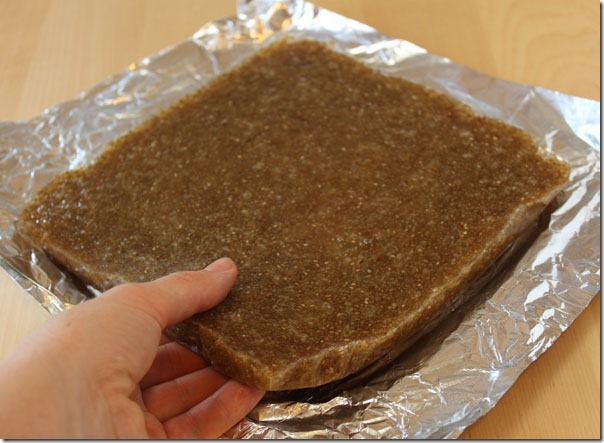 The world's largest energy chew?
The specks you see in the chews are chia seeds, the other not-so-secret ingredient. I assume most folks are familiar with chia seeds thanks to the Born to Run-volution, but if not, here's a link to some of their health benefits. I've noticed an improvement in my endurance when I take chia on my runs, so I got in the habit of carrying chia gel on my long runs. This works, but it's kind of messy to eat, plus sometimes the thought of slurping snotty chia gel is just not appetizing.  So I love being able to get the benefits of chia seeds in a much more portable form.
The other benefits of these chews: I like knowing every single ingredient in my energy chews, and that I am not mainlining high fructose corn syrup in the name of "race nutrition." Plus, they were tasty, easy to eat, convenient to carry, and didn't upset my stomach. I think they'll be in the regular rotation.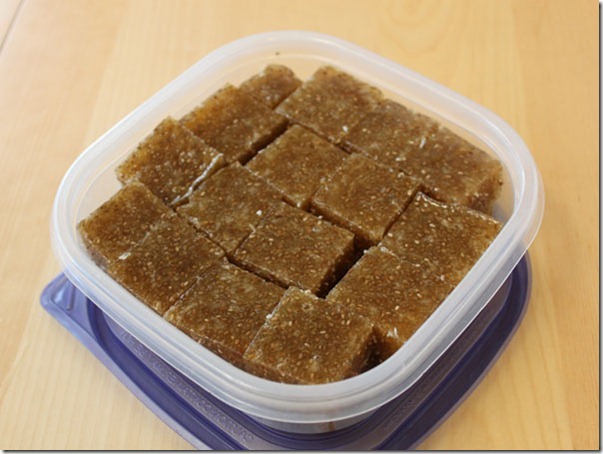 Pina Colada Energy Chews
Original recipe was found on Midpackrunner.com, I made some changes and adaptations in the recipe below
1 cup pineapple juice concentrate, defrosted (found in the freezer section)
2 oz (1/3 cup) chia seeds
1/4 cup coconut milk
1/4 tsp salt substitute (potassium chloride), like Morton's Lite Salt Mixture*
1/8 tsp baking soda*
1.5 cups turbinado sugar, like Sugar in the Raw
1 cup brown rice syrup (can substitute agave nectar or honey, if you're not worried about keeping things vegan)
1 cup water
1/2 ounce (4.5 tsp) agar powder
1/4 cup unsweetened shredded coconut
1/2 tsp citric acid (if available—gives the chews a little tartness)
Candy thermometer
1. Mix the pineapple juice concentrate and the chia seeds together in a small saucepan over medium-high heat, and bring it to a boil, whisking frequently. Boil the mixture for 2 minutes, then remove it from the heat. Refrigerate the pan until the juice mixture is once more at room temperature. Once at room temperature, add the coconut milk, the salt, and the baking soda.
2. Combine the sugar, brown rice syrup, water, and agar powder in a medium saucepan over medium-high heat.  Stir it until the sugar dissolves, then insert a candy thermometer. Continue to cook the candy, stirring occasionally, until the temperature reads 230 degrees F on the candy thermometer.
3. Once at 230, remove the pan from the heat, and stir in the pineapple-chia seed mixture. Whisk everything together, then add the shredded coconut and the citric acid and whisk them in.
4. Cover a 9×9 pan with foil and spray the foil with nonstick cooking spray. Pour the candy into the pan and let it set completely at room temperature, for at least 4 hours. Once set, spray a knife with nonstick spray and cut it into small squares.
5. The original recipe suggested rolling them in corn starch to keep them from sticking. I don't like the texture of cornstarch, and I didn't find them too sticky, so I skipped this step. I also think the corn starch would end up dissolving over long-term refrigerator storage, but it is an option if yours are sticky. I cut mine into 6 rows of 6, for a total of 36 energy chews. As you can see from the picture below, four of them fit perfectly into a small snack bag.
*These provide your electrolytes, so you don't have to worry about your potassium getting out of whack!
Nutritional Information:
For the whole batch: 2845 calories / 35 g fat / 13 g protein / 658 g carbs
For each chew, assuming 36 servings out of the batch: 79 calories / 1 g fat / 1/3 g protein / 18 g carbs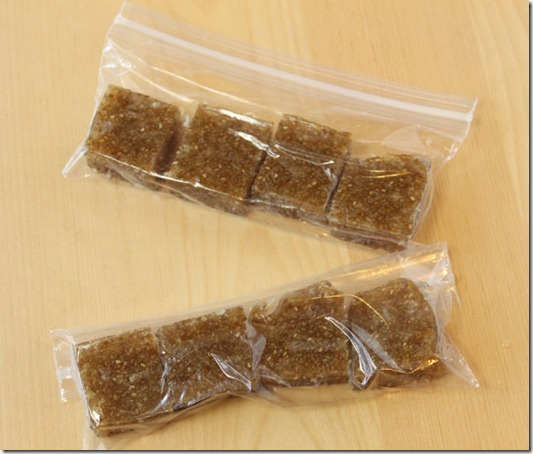 Enjoy! Let me know if you try them!