I mentioned a few weeks ago that I'd bought a new pair of shoes I was anxious to try out. Behold the Hoka One One Bondi B's: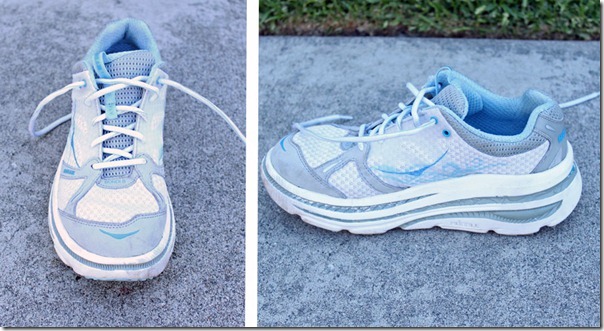 It's hard to judge just how different they are from "regular" shoes from this picture. You really need to see them side by side with another pair in order to understand just how massive they are: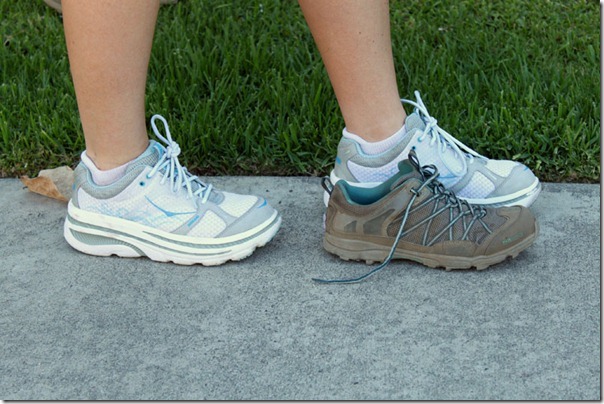 My favorite trail shoe (Inov-8 268, which is itself larger than some lightweight road running shoes) vs the Hokas.
So yes, they're bigger, which is meant to be a big part of the shoe's appeal. They're sort of the anti-minimalist shoe. They could eat three pairs of Vibrams for breakfast and still be hungry. The larger size is mostly due to a ridiculous amount of cushioning on the shoes, which minimizes impact, especially when running downhill, which can traditionally cause quite a beating on the knees and quads. The cushioning and extra-wide base are meant to give the shoes a lot of stability on hills and uneven terrain. The shoes have a "rockering" profile which is meant to propel you forward when running, and although the heels look absolutely giant, they only have a 4mm heel drop so they're still in keeping with the current trend toward a more natural midfoot running stride.
Even though they look big and bulky, the Hokas are surprisingly lightweight. Here's a handy little chart of some of my current shoes and how they stack up to the Hokas:
| | | |
| --- | --- | --- |
| Shoe | Terrain/purpose | Weight per shoe |
| Vibram Five Finger | Barefoot training | 5.0 oz |
| Mizuno Wave Precision | Lightweight road shoe | 8.4 oz |
| Inov-8 268 | Lightweight trail shoe | 9.4 oz |
| Hoka One One Bondi B | Giant clown shoe/ road shoe | 10.1 oz |
| Adidas Supernova Riot | Trail shoe | 11.8 oz |
| Vasque Blur | Cement trail shoe | 14.2 oz |
So they're about an ounce or two heavier than some of my lightest shoes, but they're by no means the heaviest shoe in my closet, and when I put them on, they didn't feel bulky or awkward at all.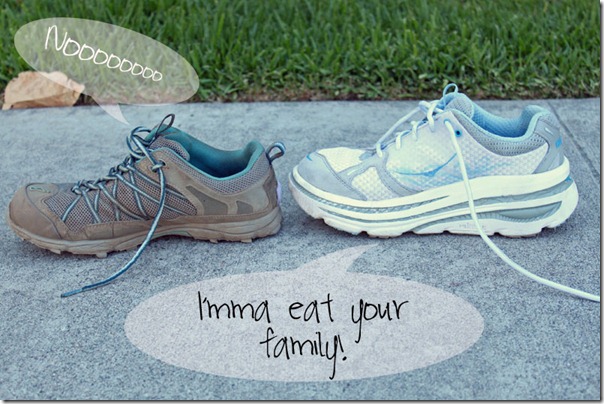 I ordered a pair of shoes because I was intensely curious to see what all the fuss was about. They're still very new (to the US market, anyway) and it's only in the past 6 months that I've really started seeing other runners wearing them. All of their feedback was really positive, and because the Hokas were so different from anything I'd tried before, I wanted to try them for myself.
Let me say, though, that they're hard to find and they're mad expensive (for my cheap tastes, anyhow). They retail for about $170, and I prefer to pay closer to $100 for my shoes, or ideally less if I can find a good sale online. It seems like all the trendiest shoes have a big price tag lately (Newtons around $150, Hokas at $170, I just saw the Mizuno Wave Prophetess for $200!) but I think around $100 should be the sweet spot for most new shoes. Of course I'm a tightwad, so I bought mine used on ebay and paid a little over half price.
Buying them online meant that I couldn't try them on, but so few places stock them, I would have had to buy them blind anyhow. Everyone I spoke with, and many websites, recommended that I buy a half-size to a full-size up from my normal running shoe, which is already a size up from my regular shoe size. So it goes like this: I wear between an 8-8.5 in "normal" shoes. I buy a size 9 running shoe. And so for the Hokas, I ordered a 9.5 running shoe, which may or may not have been a mistake.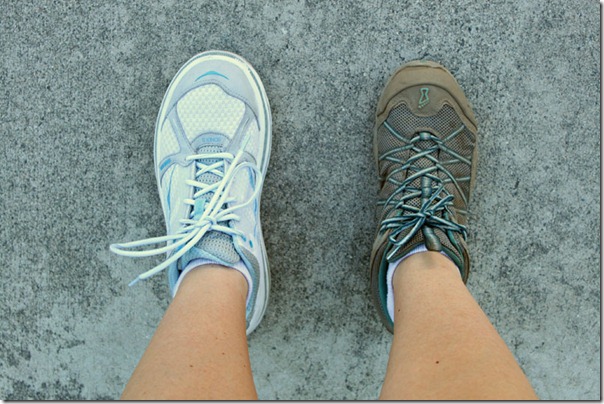 The shoes felt great when I first put them on. Kind of crazy, but great. They felt light and springy and had a lot of bounce in the soles. My first run was a short 2-mile jaunt around the neighborhood—I'd already run for the day, but I was so excited when the friendly UPS man brought them, I had to try them out right away. I usually hate running on cement, but I didn't feel any of the normal pounding when wearing the Hokas. I bounded through the run and finished feeling great, and really excited about my new shoes.
The next day I took them for a longer 7-mile run around town, also on sidewalks. I figured they were meant to be a road shoe, so I should give them a good road test before taking them on trails. This run was a little rougher. At one point, I tripped while going over a curb and banged up my knee. It could be attributed to my natural clumsiness (I have been known to trip before) but it also felt like I didn't have a good sense of where the ground was. The thick, wide soles can be great for encouraging stability, but I was so far off the ground, my natural feel of where the curb should be was completely muffled.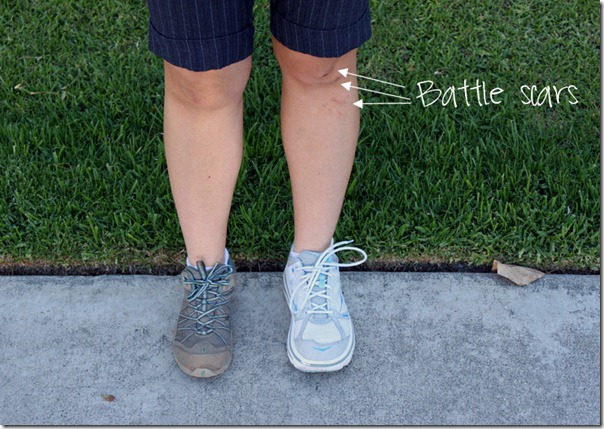 This was also the run where I started feeling hot spots on the sides & top of my fourth toes. A weird spot, right? At first I couldn't figure out why such a random spot was suddenly causing me trouble, but I think it has to do with the gray leather strips running from the toe box to the laces. The seam sewing these strips to the mesh is quite pronounced inside the shoe, and it must have been rubbing my toes the wrong way.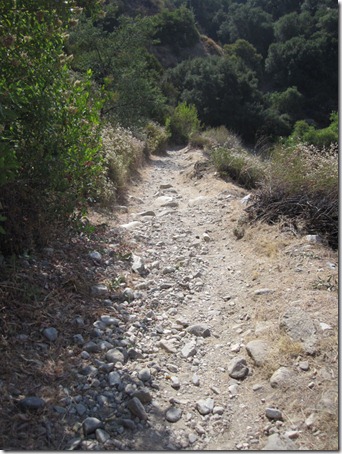 One tricky, rocky downhill section
Finally, I decided to try the Bondi Bs on my natural terrain: a favorite trail near my house. It has lots of hills and some rocky sections, but isn't too technical so I thought it would be a fine place to try a road shoe and see how it handled hills and trails. (I should say that the Bondi B is technically the road model and Hoka has a trail model, the Mafate, and also a new Combo model for both roads and trails. Many folks I've spoken with use the Bondi B on trails successfully, so I decided to try the same.)  I did about 12 miles in them last Saturday…and was dying to be finished by the end.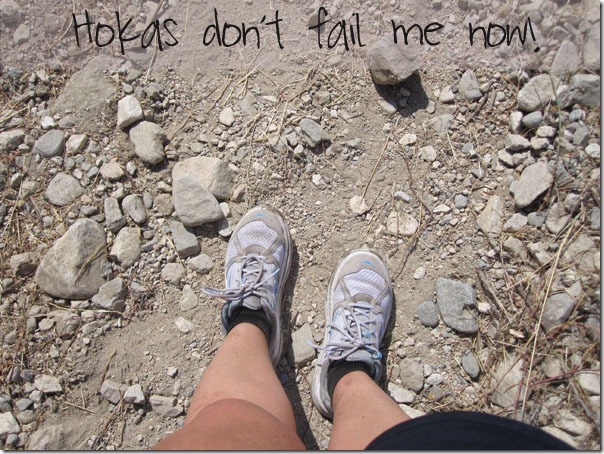 By the end of this run, I had hot spots and blisters in places I didn't even know existed. The tops of my fourth toes, yes, and also the bottoms of my big toes, the balls of my foot, the outside of my right little toe, and on my left arch. (??)  After 12 miles! I've run 50 miles in other shoes without any problems, but my feet were NOT loving these. And that is really a shame, because they felt AMAZING on the downhills. I absolutely flew and had none of the awkward braking/quad pounding that usually occurs on downhills. They propelled me forward and I felt really safe and secure. It was so fun!
I really wish my feet liked these shoes as much as the rest of my body, but at the end of the day, they're just not a good fit for my feet. I don't know if it's because they were a little too large for my feet (although I didn't feel as if I were swimming in them) or if it's just a bad design or a bad fit for my foot shape.
I ended up sending them back. It's really disappointing, because that taste of downhill running made me understand why people love these shoes so much, and it made me want to wear them on ALL my hill running…but the blisters and hotspots made me want to burn them in a giant fire. I decided to do neither and instead get my money back.
I know Hoka is coming out with new models, and I would be willing to give these another chance if I could try them on before buying and make sure that I was getting the absolute best fit for my feet. I will say, too, that the price should also come down. I think part of the justification for the $170 is that Hoka claims the shoes last longer than most: 600 miles versus 300-500 for most typical shoes.
I ordered mine used, as I mentioned above, but they were in really excellent shape when I got them. I would never have guessed anyone had worn them before, aside from some very minor midsole creasing. They were pristine. But look at the bottom of the soles after just one 12-mile trail run: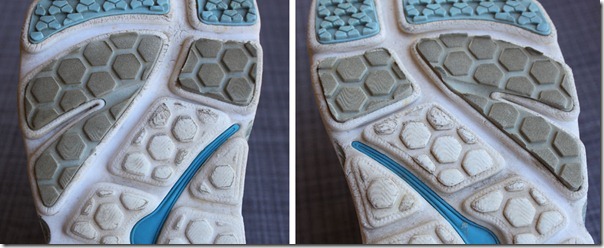 The white foam (or whatever hi-tech material they used) was already peeling or decomposing or otherwise being scraped off. Maybe they would still retain their grippiness and stability after losing the white lugs—I'm not sure. But it sure didn't make me think these shoes could withstand another 588 miles like that.