Shadow of the Giants is usually the highlight of my spring racing season. It's the race I return to year after year because of the atmosphere, the beautiful scenery, the saucy race director, and the chance to escape LA and play in one of the country's most scenic areas. I was especially looking forward to it this year because my recent races have been going so well and I intended to try and break my recently-set 50k PR on the course.
But instead of coming on the blog to (modestly!) gloat about another awesome race, I instead have to type those three letters I've never written before: DNF. For the first time in my life, I didn't finish a race, and to say I have mixed feelings about it is to put it mildly. But let me back up…
The week before Shadow I was feeling a little fatigued and run-down. I was struggling on my runs, so I decided to take it easier and taper a little more. Several days before the race, I developed a hacking cough that turned into a sore throat and trouble breathing. I'd already registered and booked a hotel, plus I kind of didn't believe that I wouldn't magically recover before the start of the race, so we decided to go and hope for the best. We drove up to Oakhurst the day before the race, and we were both feeling pretty lousy. We ate dinner at 5pm. We were in PJs in bed by 7pm. It was bizarre. I kept saying to Jason, "I kind of can't believe I'm supposed to run 31 miles tomorrow."
I sort-of knew I was in trouble from the time I woke up on race morning. My pizza dinner from the night before twisted my stomach into knots, and my throat made it really unpleasant to eat or drink anything. I didn't have much pre-race excitement (not even nervous jitters!) because it still didn't seem real that I would be running. So instead I channeled all of my uncertainty into agonizing about what to wear, because this was the weather forecast: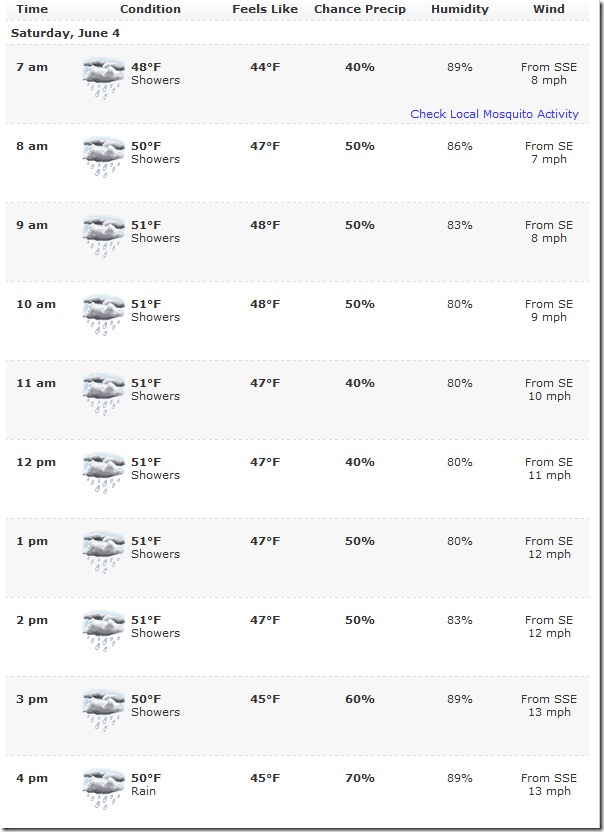 Cold and rainy all the day long! I must have changed between long sleeves, short sleeves, capris, shorts, and skirts about a dozen times. In the end the weather was actually kind of great (and I was a wee bit overdressed). We definitely got wet, and it drizzled almost the whole time, but it never really RAINED, and it was cool, and overcast, and pretty refreshing. It seemed appropriate to be running in the rain surrounded by greenery and giant trees.
Every time I have run Shadow of the Giants, the course has been different than before, and this year was no exception. Race director Baz called this "Plan C" because he kept having to rework the route due to downed trees, impassable trails, and lots of lingering snow. If I had been feeling good, this would have been a GREAT year to set a course or personal record. The course seemed less steep and technical than in years past, and much of it was run on rolling fire roads or wide dirt trails.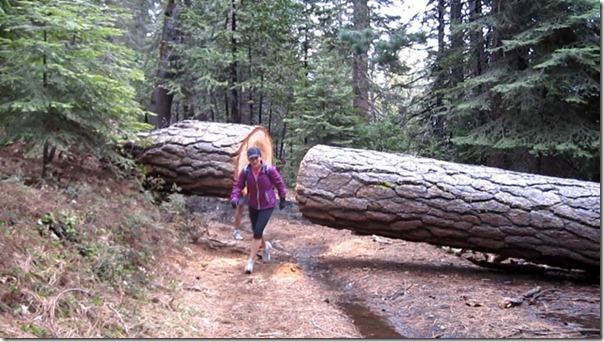 These were the cleared sections of trail. I actually really love the obstacle course nature of jumping over and under fallen trees, dodging giant mud puddles, and avoiding low-hanging branches. After the race I talked to one fellow who had to get stitches on the top of his head because he banged his head against a low branch a few miles into the race. Apparently he felt great and wanted to finish but they wouldn't let him. Hardcore.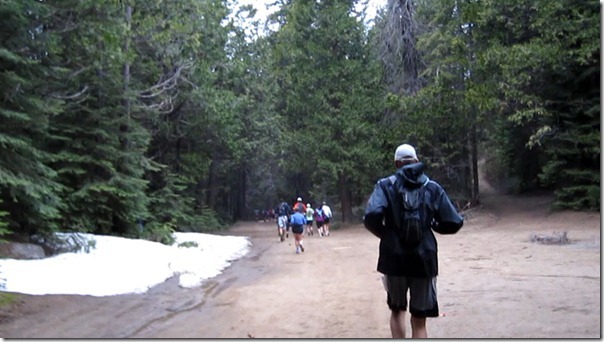 I felt surprisingly good the first 10 miles of the race. Well, it was almost all downhill, so I guess it's not that surprising. My Garmin never found a signal, so I don't know what pace I was running, but I was taking it pretty easy and just letting momentum carry me and putting forth very little effort into the actual running, and feeling okay. That, my friends, is what is called a false sense of security. I started thinking, "Hey, it's not so bad. I can't really breathe, but I'm still running, and if the rest of the race is like this, I'll be just fine!"
Well, obviously, there is no loop course in the world that is entirely downhill. After about 10 miles we started an extended climb and this is where I started to fall apart. I wasn't doing very much eating or drinking at all, and I completely ran out of gas. My legs were heavy, my throat, head, and lungs were killing me, and worst of all, my camera started going on the fritz! It wasn't enjoying the drizzle nearly as much as I was, and it started turning off and refusing to turn on sporadically. (This may have been a good thing, since I probably would have just whined incessantly into the camera for the next 12 miles.)
You can't really tell from this picture, but these two had a leash-type thing connecting them at the waist. I cannot TELL you how jealous I was. I considered going up and just asking if I could clip into their leash as well, so that dude could pull me up the hill, but it seemed awkward. They knew each other, I was a stranger, I might be sort of a third wheel…yeah, I decided against it.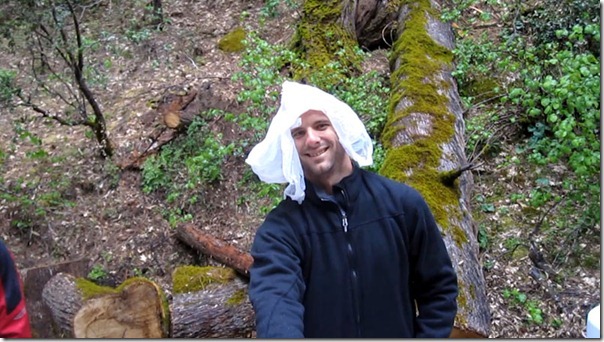 Keeping dry, ultra-style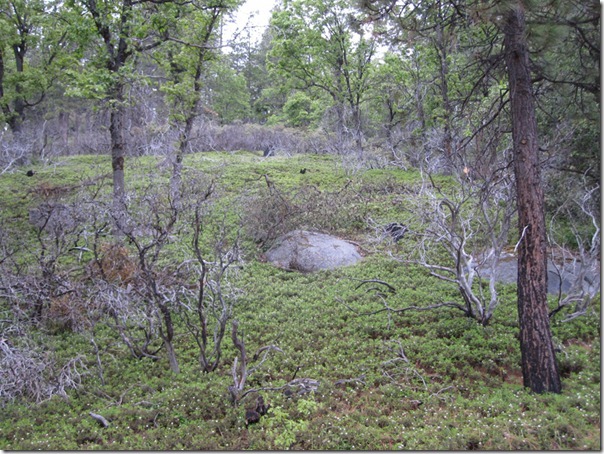 Around mile 16-17 I started to seriously consider dropping. I had really slowed down and was getting quite cold since I wasn't doing much running. I tried to eat and drink, but my stomach issue was also presenting a problem and not much was staying down. The course was structured so that at mile 22 we would loop back through the start/finish area and then do an out-and-back for the last 9 miles. It was hard knowing that I would soon see the finish area, with warm showers, a change of clothes, hot food, and Jason, and then have to run walk for another few hours.
Here was my dilemma: I have NEVER quit a race before. I've always thought that when I did DNF, it would be during a hundred-miler or a race across the desert or something, you know, legitimately hard. Not a 50k race I've done a dozen times before, through beautiful scenery, in perfect running weather, on barely rolling hills! And, yeah, I wasn't feeling great, but nothing was broken, nothing was torn, it was more inconvenient than anything else. So shouldn't I suck it up and finish?
The other part of me, though, got all philosophical-like and wondered, "Why do I run ultras?" I'm never going to win prize money or anything, so the most I can hope for is to have fun, enjoy the beautiful trails, and get a sense of personal satisfaction from it. That day I was most definitely not having fun, or enjoying myself, and I wondered, then, what was the point? What made it a more difficult decision was that I knew that if we hadn't been looping back to the start, I wouldn't have dropped at mile 22, I would probably have kept trudging from aid station to aid station, miserable, until I finished. Is that better? Stronger? More noble?  Maybe. But who was I worried about impressing? What did I have to prove?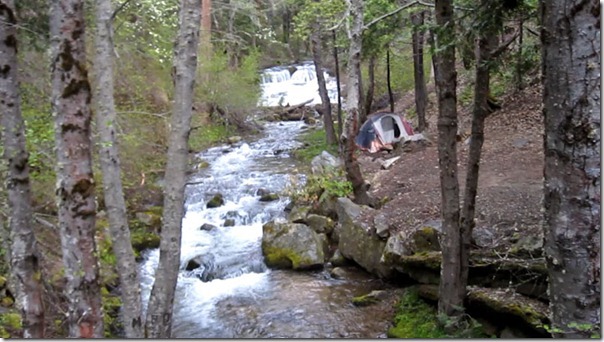 I ran through this debate over and over in the last hour of my race. When I finally got back to the start and told them I was dropping, I didn't feel a huge sense of loss or failure, which I think means it was the right decision. (Although now, writing this out, I have been doing the ole wince-and-sigh quite a bit.) I was diagnosed with bronchitis and a sinus infection a few days after the race, so it makes me feel a little more justified in wussing out. Ah well. It's not the end of the world, it's supposed to be fun, and if I am lucky, there will be many, many more races in my future.
I know this wasn't the most exciting recap and the pictures in particular were lacking—blame the soggy, temperamental camera! I do have a fun video in the works, but before that gets posted, here are some shots from our drive home!
Last year we stopped by the Bravo Cheese Factory on the way back to LA. It's just outside of Fresno, and I cannot believe we had missed this place for so many years. It's a Western-themed palace of kitch and American excess and the gustatory glory that is cheese. It's kind of amazing.
[I played around with some of these photos in Photoshop, and for some of them I used a program called CameraBag, written by two of my brilliant friends from college.]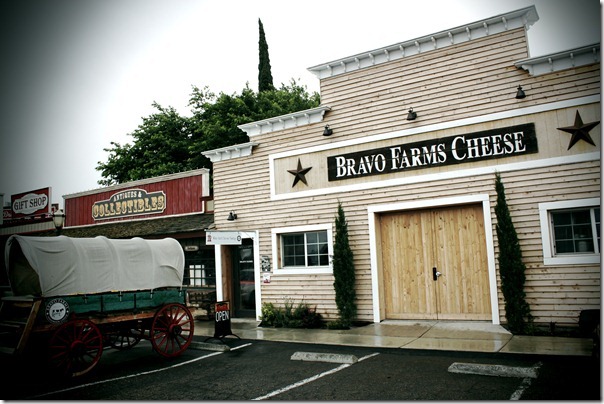 There's a cheese/gift shop, restaurant, BBQ pit, fruit stand, ice cream shop, wine bar…and probably a few other things I'm forgetting.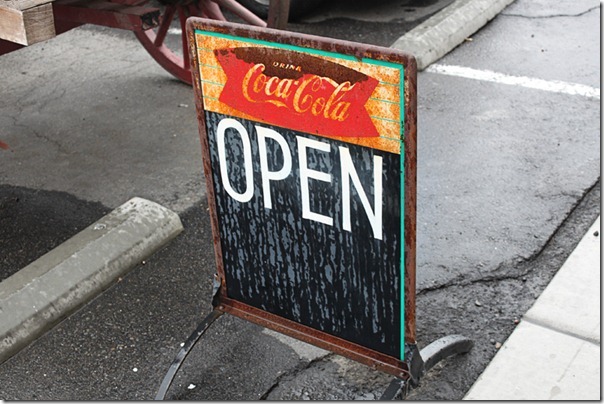 Five-story treehouse in the middle of the complex.We didn't go up this year, but last year we climbed up and explored all the rooms.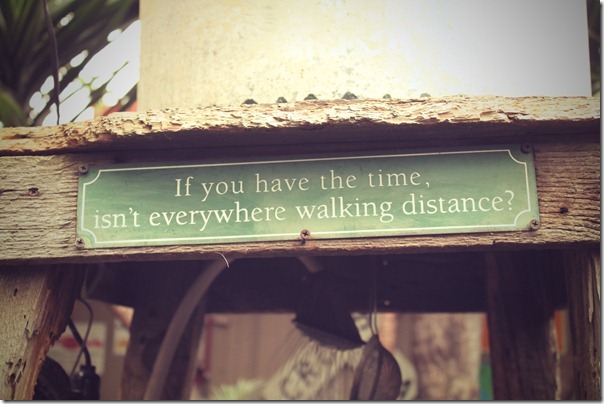 Someone at Bravo is an ultrarunner, I see.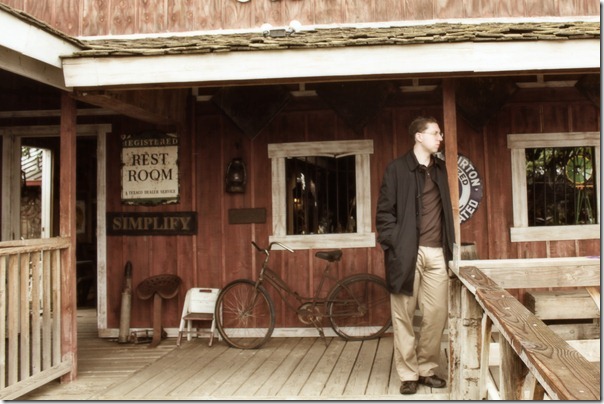 Even cowboys get the gift shop blues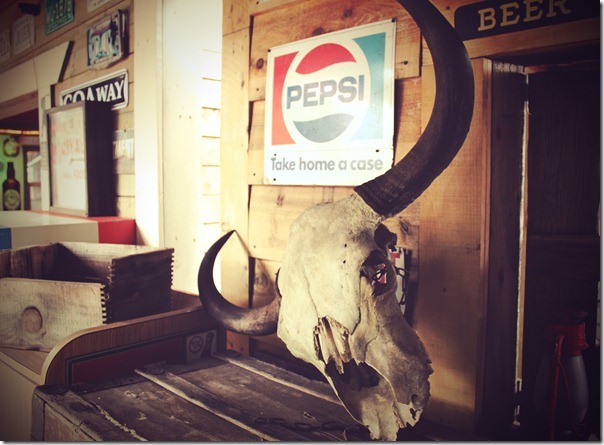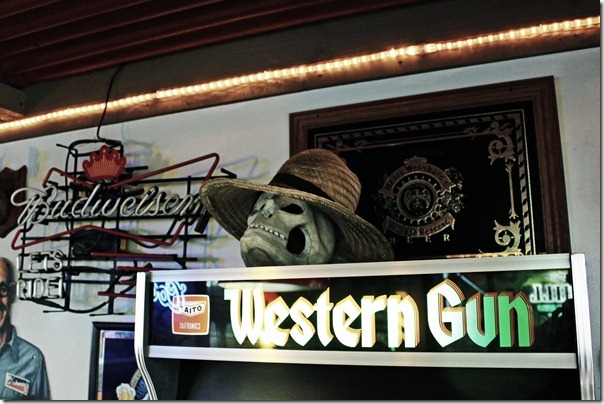 The reason it's called the Cheese Factory.
And finally, a beautiful rainbow appeared as we were about to drop into the valley approaching LA: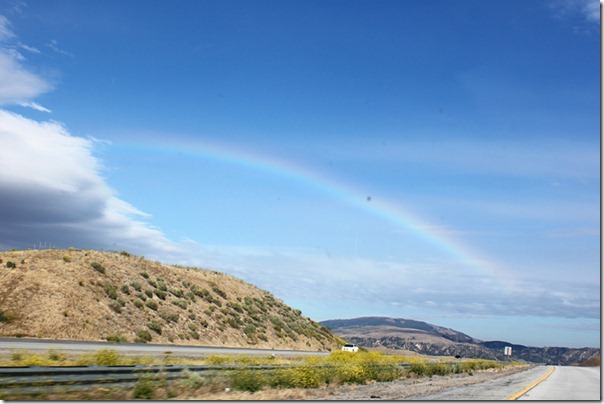 Every little thing is gonna be alright.
Final Stats:
Date: Saturday, June 4, 2011
Distance completed:  22 miles
Elevation gain: unknown
Time completed: 4+ hours
Official time: DNF