This was a great race—I felt the best I had during a race so far for the 2010 season. It started on a bad note: we'd driven down to Julian from LA the night before, and had horrible traffic leaving the city. The first hour we traveled 13 miles. We finally arrived in Julian close to 10 pm. The B&B was cute, but our room (and bed) was tiny. We settled in to sleep around 11, but I could NOT get to sleep. I literally tossed and turned most of the night. I would guess I dozed around 2am, and got up at 5, with periods of wakefulness in between. So I was exhausted and not feeling my best at the start.
The good news is that we were only  staying 10 miles from the start, so we didn't have far to go, and got there about 6:30. It was really cold! After waiting in a long bathroom line and getting my number pinned on, the 7am start whistle came quickly–I wasn't quite ready for it, and was still waiting for my Garmin to get the satellite signal!
The sign of an true trail race: a long line for the bathrooms.
The start of the race is wonderful–nice, easy singletrack, rolling hills, nothing too steep up or down. I tried really hard to not go out too fast this time, and not repeat my crash and burn from San Juan Trails. The first 6 miles are all that rolling singletrack, through green hillsides. I ran almost all of it, but tried to be conservative and walk up the steeper, longer hills. I was doing about 10 minute miles and felt really comfortable at that pace. I also started eating gummies pretty early on, and tried to drink regularly. Jason had filled my water pack and had put the bladder in upside down, so I had some trouble getting water, but I didn't want to stop till the aid station, so I made do.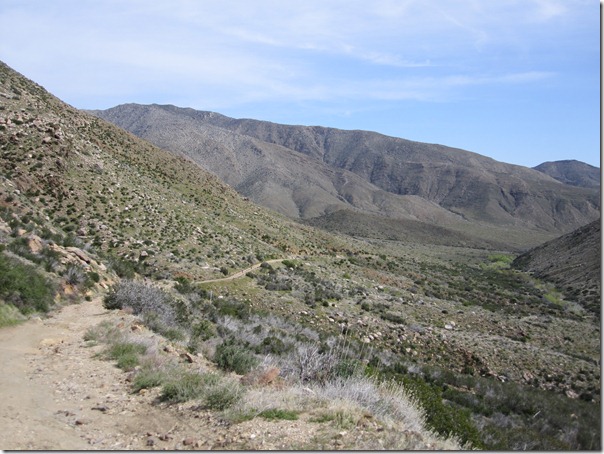 After 6 miles, you hit a wide dirt road and it's aaaalll downhill to the next aid at mile 9.75. This section was trickier, because again I didn't want to go too fast, but I didn't want to lose time being too cautious. It was very rocky in parts, but fortunately I think I'm getting much better at the downhills, because I didn't get cramps and I didn't have to slow down too much (and I only got passed a few times–I did some passing myself!) This section was pretty much a breeze, but I was getting impatient, because we'd been told that the aid was at mile 8, and I couldn't figure out why it was taking so long to reach. Overall, though, the first 10 miles were pretty effortless.
Finally hit the aid after a little more than an hour and a half. Spent some time rearranging my bladder, and grabbed a few Girl Scout Thin Mints and a handful of potato chips for the road. The next section was pretty flat through the valley, not too interesting to look at, and pretty soon the road got really wide and very sandy. It was like running on the beach! It was actually kind of difficult and took a lot of energy. Fortunately the next aid was very close–around mile 13, so it arrived pretty quickly. The last section to the turnaround also seemed to take forever, because it was still that annoying sand that sucked all forward momentum, and it was also hard to see people on the return trip, and wonder if you were close to the turnaround. Toward the end we were running through some serious desert with lots of cacti close to the trail. The turnaround was just an RV with some water and a box of stickers to put on your bib to prove you made it.
The long, unwinding sand road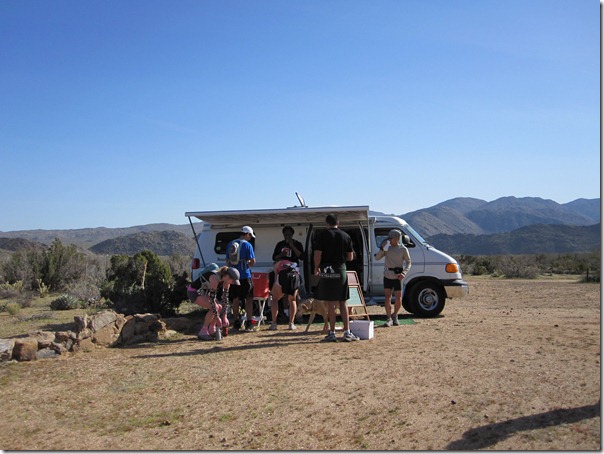 High-tech turnaround system
Heading back, I hit the mile 13 (now mile 18) aid station feeling good, but I started to slow down on the long, slow slog back to the final aid before the climb. It was pretty warm, and I was tired, my left big toe was really hurting, and I was so sick of running in the sand. I didn't really walk, but I was definitely doing a slow shuffle. My mile times for this section were 11-12 minute miles, which is a pretty slow trot. I took a few walk breaks, but tried to keep running, because I knew I'd be walking up the big hill soon enough. Within a mile of the next aid station I found a perfect hiking stick, and decided to carry it to help me climb. It was annoying to run with, but I rationalized that I would soon stop running, so I made it work.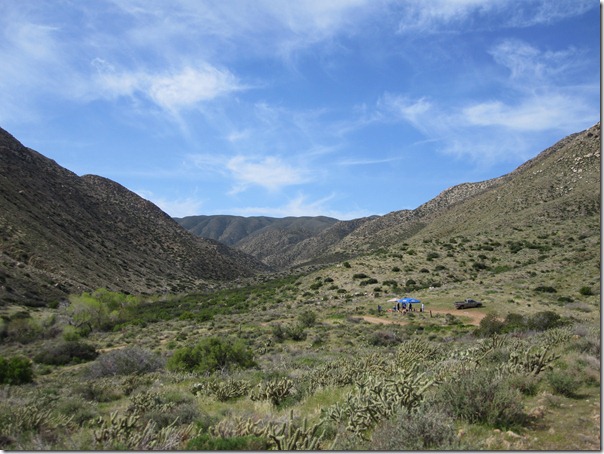 The final aid station in the distance
Got to the last full aid station (mile 22ish) and got more cookies and water, then settled in to start hiking. In the beginning I was passed by a number of people who jogged up, but after awhile I started passing them again, as I got into my powerhiking rhythm. I even jogged occasionally myself, but mostly turned up my music and concentrated on climbing strong. I felt pretty good during this time. I ate a lot of chia gel, and mostly didn't worry about not going too quickly. I think the hiking stick helped a lot, my back didn't feel strained, and although my arms worked harder, it was worth it to take some pressure off my legs. It helped that the climbs weren't too strenuous. They were uphill, for sure, but nothing as brutal as Horsethief at San Juan Trails or Holy Jim at Twin Peaks.
My trusty hikin' stick, also good for beating up the competition
At the 25 mile mark I hit the nice singletrack section, and after a few more climbs decided to say farewell to my loyal stick. I ditched it and started running…and surprisingly started feeling really good! I was doing solid 9-10 minute miles, and had some great energy. The rolling hills and beautiful scenery helped, as did the packed trail. For the most part I was alone at this time, although I caught glimpses of a guy or two behind me. After 3 miles of keeping my good pace, I started to flag, and wonder how close I was to the finish. I also thought I had a chance to break 6 hours at this point. Sadly, not that close. There was a water stop around mile 28ish, and when I learned I still had 3 miles to go, I lost a little steam. But I still kept running, climbed strong, and passed 2 more people during this time.
What kind of plants are these? They were completely Seussical and awesome
Singletrack to take me home
After crossing the road, I knew I had less than a mile to go, which was good, because I was running out of steam. I also knew I would just miss the 6 hour mark, which was disappointing. But I kept running and kept pushing. About a tenth of a mile from the finish, the guy behind me passed me, with the encouragement of his annoying spectator girlfriend who showed up and ran beside him. Hmph! But still, it was a nice ending stretch, a gentle downhill cruise to the parking lot. I finished feeling GREAT. Not too tired, not too sore, with energy in the bank. I did have a monster blister on my left big toe, but otherwise no problems. And my recovery was fantastic–no soreness or limping, working out again the next Monday! A completely excellent race.
This is why I always try to tape my toes
Relaxing with two slices of pizza by my side.
Final Stats
Date: Saturday, March 20, 2010
Distance: 31 miles
Elevation gain: 6,000 feet
Garmin time: 5 hrs 56 min
Official time: 6 hrs 7 min (30th/115, 3rd in age group)