This was a gorgeous run in the Berkeley hills in Tilden Park. There were lots of other distances going on this day, but only about 16 of us marathoners. The course was a half-marathon loop that we did twice. I didn't know much about the race going into it, but it turns out it was a tough course! Very hilly, lots of good climbs, and a fair amount of gooey, gloopy mud! I didn't think I would like the two-loop setup, but it wasn't bad at all- it was actually kind of nice to know what to expect and to know when I could push it and when to hold back.
Lots of greenery and tons of wildflowers

Just a small sampling of the muddy, muddy course
It was tough coming into the start/finish area, because almost everyone was running the half so they were finishing just as I had to go out again. But I felt good the whole race, took walk breaks when I needed to but still ran a lot at the end. It was very windy and cold up on the ridges, but when not at the top the weather was lovely–cool and overcast. It was a wonderful day to run, and a race I would definitely do again.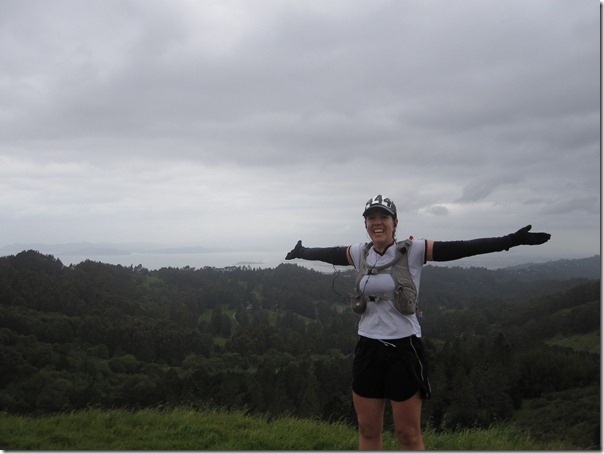 On top of Grizzly Peak
Final Stats:
Date: Saturday, April 10, 2010
Distance: 26.2 miles
Elevation gain: 11,800 feet
Garmin time: 5 hrs 17 min
Official time: 5 hrs 28 min (5th/8, 2nd woman, 1st age group)
Here is the race video I made about the 2010 Tilden Trails Marathon.