My first 50 mile race! If you had told me 10 years ago that I would be running 50 miles, I wouldn't have believed you. It's been a slow but natural progression, from running a lap around the park to running 3 miles to running 6 miles to training for my first marathon to doing my first 50k. I stayed with 50ks for five years, and never much felt the urge to venture beyond. Marathon to 50k isn't a huge jump, but 50k to 50 mile felt enormous. When I finally did get the courage to register for my first 50-miler in 2008, I got injured a few months prior and had to pull out of the race. So although I registered for the Rocky Road 50 miler just a few weeks before the race, it was really a distance in the making for the past few years.
Putting the "rock" in Rocky Road
For all the slow buildup leading to this race, there wasn't any anxiety or drama associated with running a new, scary distance. It's funny, but I had a really peaceful feeling about this race. No nerves, no doubts. Maybe because I'd been racing so much this spring, or maybe I was just older and wiser and knew that I was ready for it. Whatever the reason, I just accepted the distance and didn't stress. I even slept like a baby the night before! (That NEVER happens.) The race was in a gated community in Orange County, so I was up at 4 am to drive down for the 7am start. The course was not physically challenging, but it was tough mentally: a hard 5-mile loop on singletrack, then 3 out-and-back sections of 15 miles each to make the 50 mile total.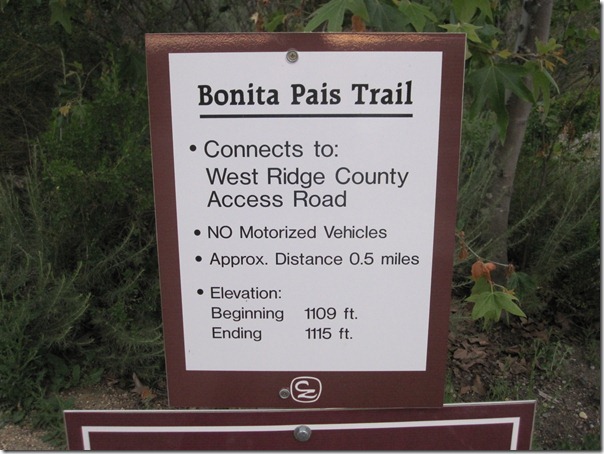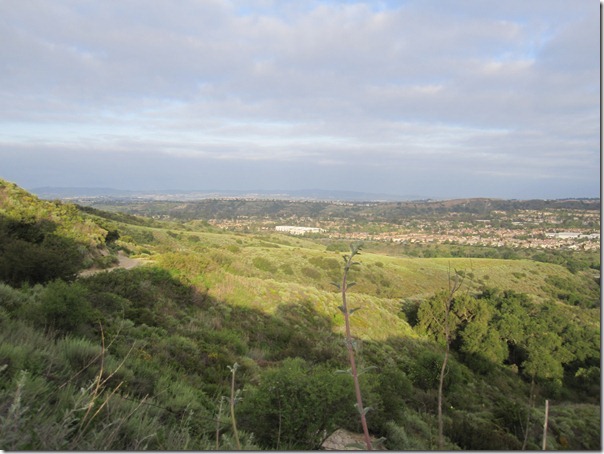 View from the top
The first 5 miles were actually really fun. There was a LOT of climbing in that time, lots of really steep ups and downs, but it worked out pretty well as a warm-up! The trail was singletrack and not very well cleared, so at times you couldn't even tell where it was going, it was so overgrown with weeds. But it was beautiful and felt really wild. I tried to be conservative, but I still found myself passing people on both the ups and downs. There weren't many people in the 50-mile distance–maybe 12 or 13 total–but by the end of that loop, I was narrowly in 2nd place (although I didn't realize it at the time). I came into the 5-mile aid station with another runner and left before him, so I kind of had his monkey on my back during the beginning. But although I was feeling great, I tried not to push it too hard. I did those first 5 tough miles in a little under an hour, so it was pretty slow.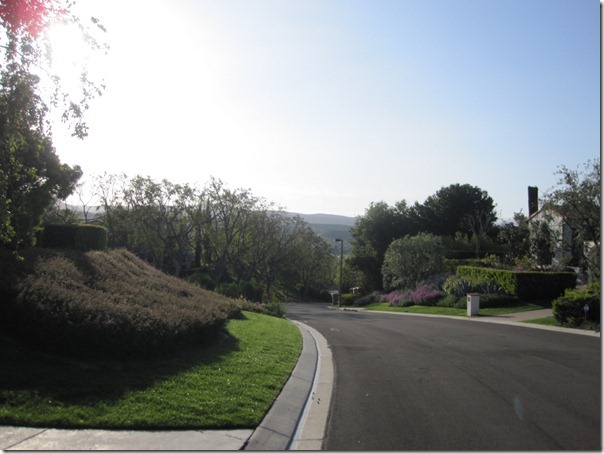 Typical scenery on much of the course
Now that the fun was over, it was time to start the long slog. We started running the out and back and I didn't really understand–we were on a wide, groomed horse trail that paralleled a main road through a housing development. I kept waiting for us to peel off and get onto real trails, but we never did! So the view the whole time was: cars, road, fancy houses, and some greenery and flowers at the side of the road. It was a slow 7.5 miles out to the turnaround, then headed back to do it all again. I did discover that the turnaround had magical properties, though. I was flagging a little as I came in, and stopped for a bathroom/cookie break. As I was leaving, I suddenly got a wonderful second wind! I felt really light and free and practically traipsed on out of there. As I did, I saw the 3rd place guy coming in, so I knew I didn't have much of a lead.
Say hello to your 45 miles of horse trails. Hope you like this view, you'll be seeing it for 9+ hours…
One of the good things about this race was all of the aid stations. There were 3, and two were 2.5 miles apart, and the other was 5 miles away, so aid was always fairly close. There weren't too many hills, either, just a few walk-worthy ones near the turnaround. This presented its own difficulties, though, because I was running more than I was used to, and it was also hard to keep mentally alert when the scenery never changed and never challenged me.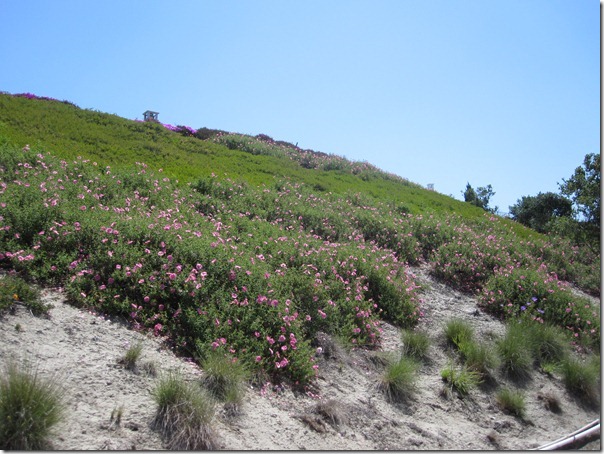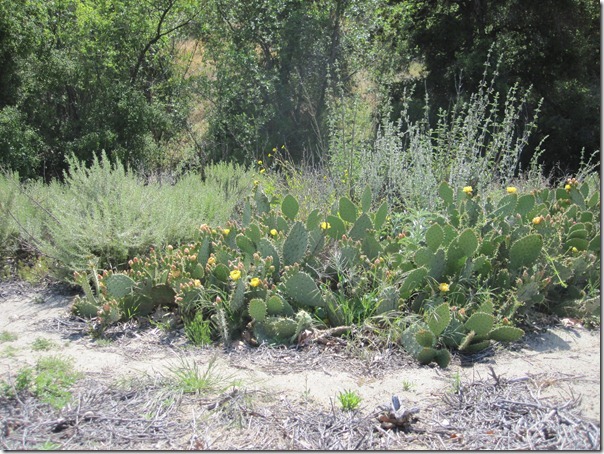 I hit the start (20 miles into the race) and still felt great. No big problems to speak of: some tight hamstrings and sore toes, but nothing major. I had taped my toes that morning and they were bothering me, so I stopped to untape them before heading out again. One thing that really helped this race was that I ate and drank a TON. I was pretty much eating every 2 miles, and I think the constant nutrition helped keep me from bonking. I had a number of gummy products (Clif Bloks, Gu Chomps, etc) and lots of Oreo-type cookies, as well as salty potato chips. As the race went on and it got hotter, I found myself craving cold soda, so I had lots of icy Coke during the second half of the race. Fortunately, I had no stomach problems and I think the sugar really helped.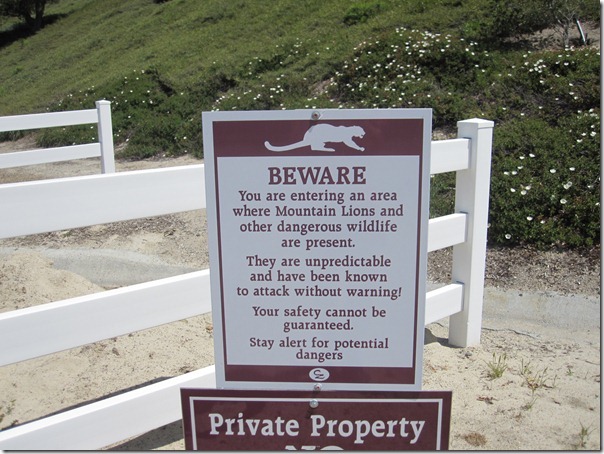 I find this pretty hard to believe
I hit the halfway point around 4:20, which was pretty decent timing, and I was still feeling pretty awesome. Running a lot, maybe not as fast but definitely in the high 9-minute mile range. Hit the second turnaround, and hit my 50k mark around 5:30, which, again, good time. But after this I started to slow down and feel the miles. My feet were also bothering me–my big toes were feeling squished and like they were starting to get bruised. So when I got to the start area at mile 35, I took some time and changed into my street running shoes, since there wasn't much "trail" to speak of anyhow.
"Wildlife." I may or may not have kicked a lizard (accidentally!) during the run
The last 15 miles were tough, and took me around 4 hours to finish. It was really HOT, and in the beginning not all of the aid stations had ice (although they all did later on in the day) so I was drinking lukewarm water and overheating. My shirt was caked with salt! Plus I was suffering from boredom, and I was lonely, and since I was in pain, I was spending too much time in my head focusing on how much it hurt. But I tried to keep my optimism and remind myself of how much I love running and how lucky I am to be able to do this. I also taped some segments for my next running video, which helps take me mind off of myself. It was also cool to think that every step past mile 35 was longer than I've ever gone before!
At the turnaround (mile 43) I had about 100 minutes to make it the last 7 miles if I wanted to come in under 10 hours. At this point I knew I had a sizeable lead over the next person so unless I bonked hardcore, I was pretty much guaranteed to end up 2nd. Although I went in with no time ideas, once I thought I could come in under 10, that seemed like a good goal, and I needed some motivation to get moving. So I tried. I really did. I pushed, and I ran more in that last 7 than I did in the previous 7. But the truth is, I just didn't have much left in the tank! Unfortunately I just didn't have any speed left, and ended up doing the death trot rather than a run. BUT I am still so glad I had a goal to work toward, because otherwise I would have walked much more. I got back to the start and had to do one more small loop around the parking lot! Curses! (Note that my Garmin says I went 50.5 miles, so I guess it's possible I came in under 10 hours after all!) Then, blissfully, I was finished. It felt so great! And truly, although it was difficult, I never doubted that I would finish. It just really felt like it was meant to be. Lots of people ended up dropping–I think the heat caused some problems—so I feel very lucky that I finished feeling good, feeling strong, with no health problems other than some sore legs. I know there are more 50-milers in my future.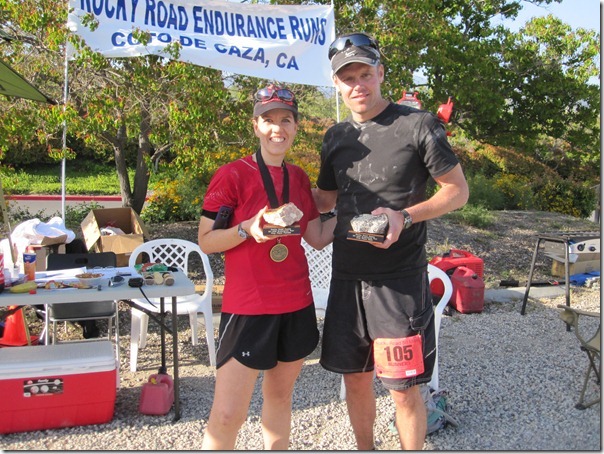 With first-place finisher Rob
Final Stats:
Date: Saturday, April 24, 2010
Distance: 50.46 miles
Elevation gain: 8,000 feet
Garmin time: 9 hrs 32 min
Official time: 10 hrs 5 min (2nd overall (out of 6), 1st female)