Hey, it's been awhile since my last race recap! I've still been working out consistently but have really cut down on my weekly mileage in favor of another ultra-endurance project: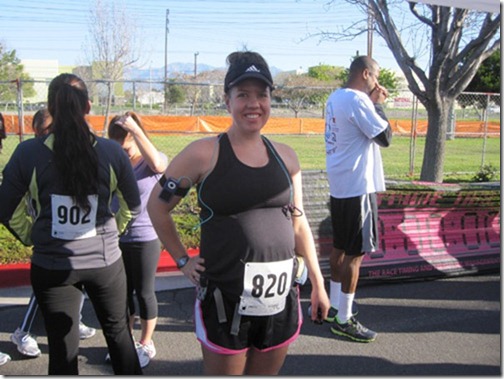 Miniature running enthusiast expected next month!
I've felt terrific for most of the pregnancy and I feel really lucky that I've been able to keep up my exercise routine. Obviously things have changed—I run very slowly, take frequent walk breaks, and take more rest days than I used to. But in general, I'm still able to get out and break a sweat about 5 days a week, and I have loved staying active during all of these changes. It's helped me feel like my old self, even while inhabiting a strange new body. And of course I hope that my love of running is rubbing off on my passenger too.
I've been itching to race again in some form before the baby comes, and on the spur of the moment I decided to run the Chino Dairy Aire 5k last Saturday. This is actually my third race while pregnant—I did the Leona Valley Half Marathon at 12 weeks, the Griffith Park Half Marathon at 18 weeks (and still haven't managed to post that recap) and now the Diary Aire 5k at 33 weeks. Obviously this was my waddling-est race yet, but it was also a whole lot of fun. How can you not love a cow-themed event?