Hey, it's been awhile since my last race recap! I've still been working out consistently but have really cut down on my weekly mileage in favor of another ultra-endurance project: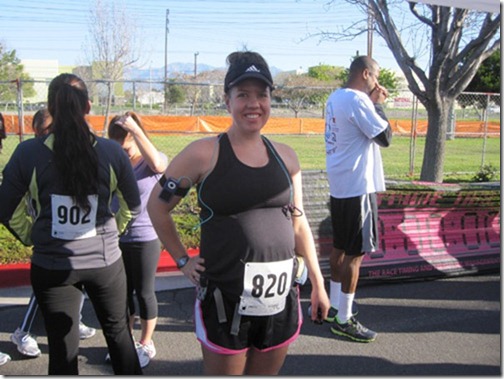 Miniature running enthusiast expected next month!
I've felt terrific for most of the pregnancy and I feel really lucky that I've been able to keep up my exercise routine. Obviously things have changed—I run very slowly, take frequent walk breaks, and take more rest days than I used to. But in general, I'm still able to get out and break a sweat about 5 days a week, and I have loved staying active during all of these changes. It's helped me feel like my old self, even while inhabiting a strange new body. And of course I hope that my love of running is rubbing off on my passenger too.
I've been itching to race again in some form before the baby comes, and on the spur of the moment I decided to run the Chino Dairy Aire 5k last Saturday. This is actually my third race while pregnant—I did the Leona Valley Half Marathon at 12 weeks, the Griffith Park Half Marathon at 18 weeks (and still haven't managed to post that recap) and now the Diary Aire 5k at 33 weeks. Obviously this was my waddling-est race yet, but it was also a whole lot of fun. How can you not love a cow-themed event?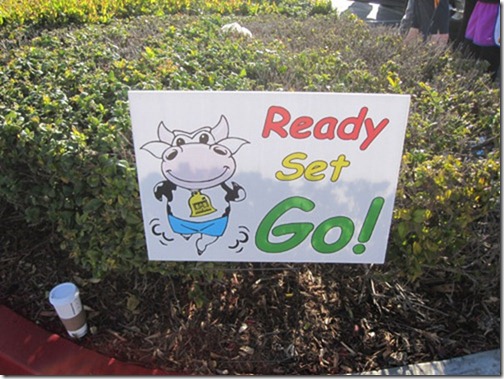 I've been racing trails so long, I'd pretty much forgotten what it's like to do a community road race. This one was packed with families, and it was so great to see young kids running with their parents and racing their friends. There were also lots of fun, kid-friendly touches: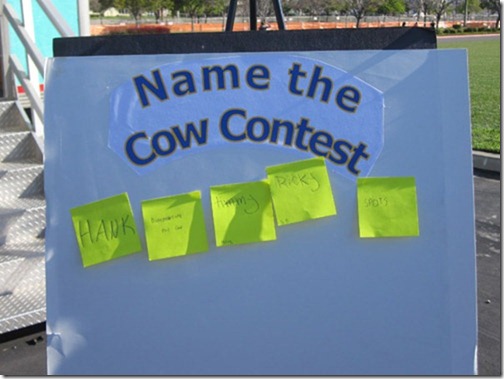 like the "Name the Cow" contest that was just getting underway when I snapped this pic. Hank? Spots? Beauregard the Cow? All excellent choices!
I promised myself I would take it easy and stick to a slow run/walk schedule. I was worried I would feel pressure to go faster than I wanted, but this race drew folks of all fitness levels, so there were plenty of other people who had the same slow and steady pace. I ended up finishing in a little over 32 minutes, with mile splits ranging from 10:20-11:30.
The course itself was not the most exciting—it wound around a local park, so part of the view was of grassy fields, and part was of the local thoroughfares that paralleled the park. We also got to run by a power station about three different times. I did get excited when I saw this sign: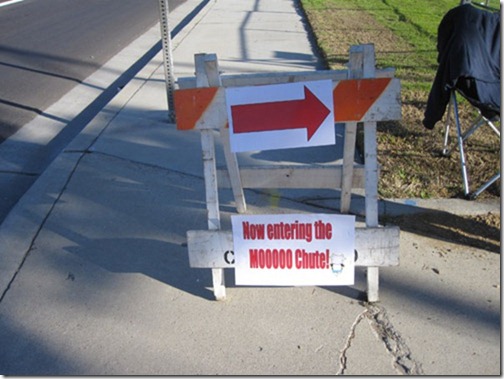 Because I was expecting the chute to be surrounded by cows, mooing us onward to victory! Instead, it looked like this:
Not a cow to be seen. Yeah, I was disappointed too. Even with the lack of cheering bovines, I don't want to make this sound negative, because this is actually a great little race. It was low-key, had a lot of community support, and they gave us chocolate milk at the finish line. What's not to love?!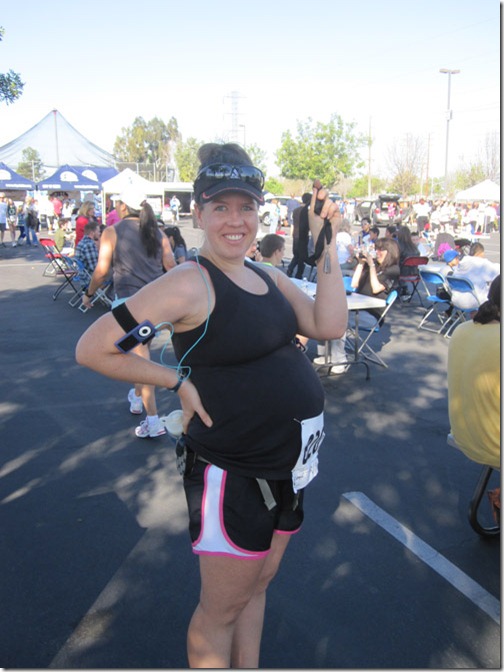 Oh, and the medal that I'm failing to show off for the camera is in the shape of a cowbell. Adorbs. The BEST part of the whole story, though, is that I've never actually raced an official 5K before, so this was a PR for me! Maybe the secret to beating PRs is to get the first one when you're super pregnant, then subsequent races will seem like a walk in the park. Can't wait to run another 5K in a few months and see how it goes…
Final stats:
Date: Saturday, March 3, 2012
Distance: 3.1
Elevation gain: practically nothing!
Time: 32:40